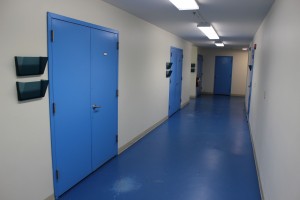 Vitek completed its move to our new facility in late 2011 after being in Derby for 28 years. The new 20,000 sq. ft. facility includes over 1,200 sq. ft. of class 10,000 clean room dedicated to military, aerospace and medical applications. The design of the building includes an additional 5,000 sq. ft. of processing rooms capable of being class 100,000 clean rooms for future needs.
Vitek prides itself in being environmentally responsible. This includes the design of our new facility. Through work done with Connecticut Light and Power and Nxegen we enhanced our building design, upgraded lighting, and did several equipment retro-fits. Vitek has been able to reduce its annual electric usage by more than 29,000 kWh.
In addition to these great energy savings, Vitek also prides itself in buying American. Over 90 % of the components and materials for the new construction and energy upgrades were sourced and manufactured in the USA.