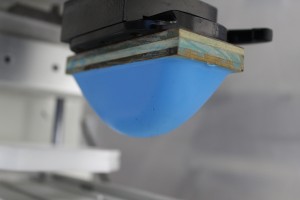 Vitek Research Corporation now offers pad printing as a value-added service. The process of pad printing is a more versatile image printing method, allowing you to print images and text on to three-dimensional, complex surfaces. Images are transferred from a custom-made plate to your parts in seconds. Print logos, lot numbers or part numbers onto most any coated or non-coated surface. All of our pad printing is performed in-house by trained technicians. Vitek currently uses inks which are known for their excellent chemical and mechanical resistances as well as outstanding adhesion characteristics on a large variety of substrates. The basic ink mixing system consists of 12 basic colors which can be used to achieve a wide range of different shades.
Key benefits of pad printing include:
Print onto complex geometries with ease
Cost effective for both small and large scale runs
Improved traceability – be able to track parts in the field and identify batch/lot number
Brand recognition – get your company's name seen more clearly with our high-res printing available in several colors
USP Class VI inks available upon request – ideal for medical devices
Most inks are fully autoclavable
If you have a question regarding pad printing, please contact us.